I am a huge fan of mom support groups. These groups are safe spaces for moms to ask questions, vent, and share stories about their experiences as they navigate through motherhood. Within the groups, I've noticed (annoyingly so) that the same questions are asked over and over again. But the questions that stick out to me are the ones that pertain to allergies and signs of what could be serious food allergy symptoms.  The last three years of my life have taught me so much about food allergy management. Yet, every day I obtain new information on the subject. This post is dedicated to bringing attention to food allergy symptoms, eczema (atopic dermatitis), and how more often than not, the two are related.
Emory started exhibiting symptoms of food allergies at 4 months old. What's interesting about this is she was exclusively breastfed until she was 9 months old. This means that the allergens she was consuming were coming through my breastmilk. I can't tell you how many times her pediatrician tried to convince us that what we were seeing was "baby acne," not eczema and that we shouldn't worry. We were also flooded with articles from friends and family regarding the rarity of allergens passing through my breastmilk.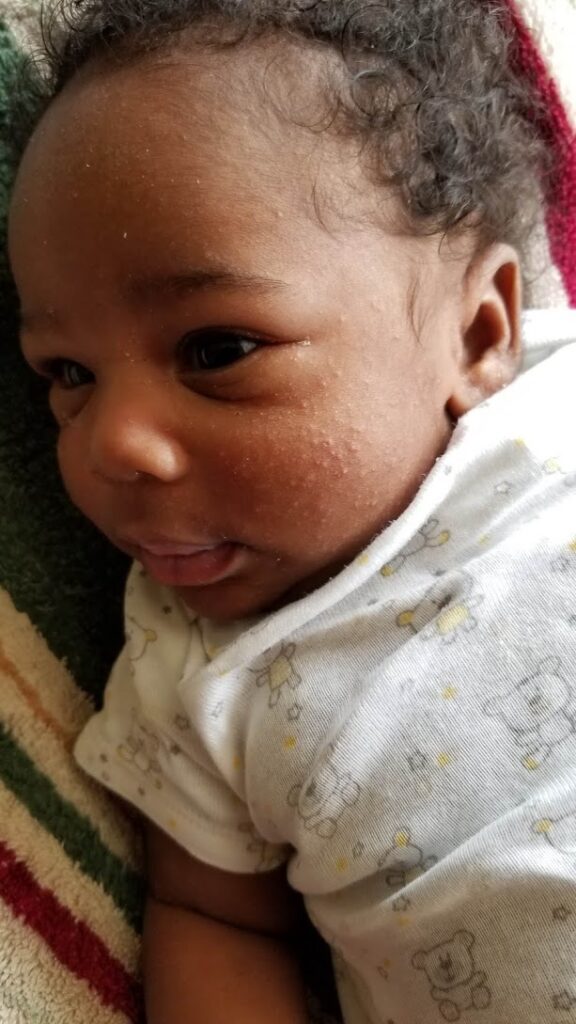 Here's what I want parents to take away from this blog post: food allergies in children present themselves very early but are often overlooked.
As parents, we knew something wasn't right. Emory's skin was inflamed, itchy, scaley, and raised. She would frantically scratch at her face, mouth, and legs all day a night. It had gotten so bad that we started putting gloves on her hands. After nursing, she would spit up what looked like an ounce of milk. We finally got her allergy tested at 9 months. There, she was diagnosed with food allergies to the Top 8. Although her diagnosis came like a punch to the gut, we were somewhat eased by this information. Emory's allergies have changed our lives and the way we see the world.
Let me begin by expanding upon a few key terms that are important to note when we talk about food allergies.
Top 8 Allergens
"Top 8" or "Big 8" allergens are defined by law as major food allergens and account for about 90% of all food allergies in the United States. The allergens include:
dairy
eggs
fish
shellfish
peanuts
tree nuts
wheat
soy (soybeans)
You might also be interested in learning about the Top 14 allergens as well!
Intolerance vs. Allergy
For the most part, I've steered clear of consuming dairy my entire life. I may enjoy the random helping of queso or ice cream, but it commonly leads to digestive issues (stomach pain, flatulence, etc) immediately following consumption. Due to my daughter's dairy allergy diagnosis, she experiences much more severe symptoms. An intolerance affects the digestive system, while an allergy affects the immune system. Immediate signs and symptoms of milk (or food) allergy might include:
Eczema (atopic dermatitis)
Hives
Wheezing
Itching or tingling feeling around the lips or mouth
Swelling of the lips, tongue or throat
Coughing or shortness of breath
Vomiting
If you ever notice your child experiencing any of the above symptoms after eating, take it seriously and get them to a doctor! When Emory was 2 years old she ate a fresh strawberry and within 30 minutes begin experiencing shortness of breath, wheezing, and swollen lips. We rushed her to the ER where she was administered Benadryl and prednisolone. Children's Benadryl has been a lifesaver in our home!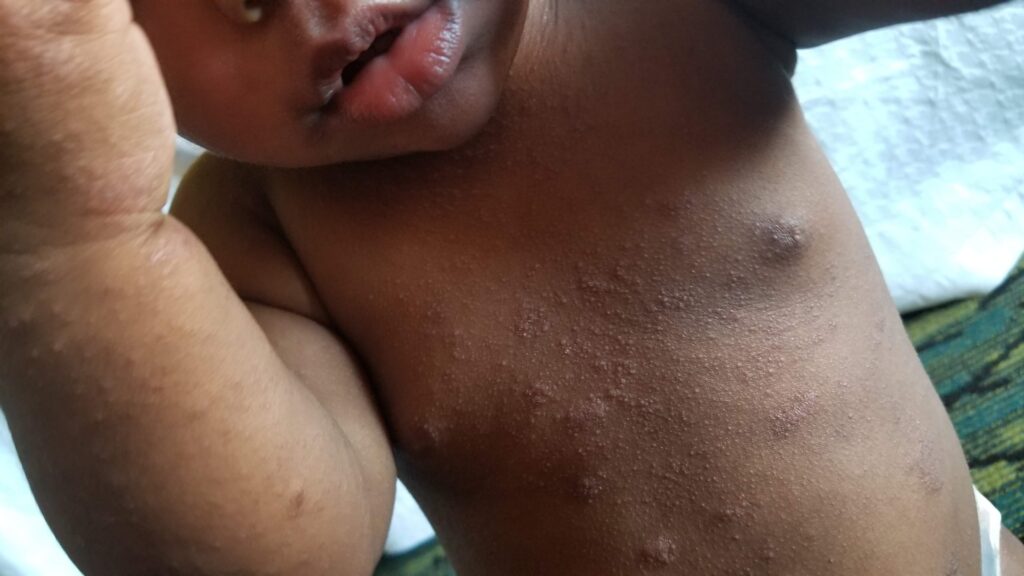 Eczema (Atopic Dermatitis)
We can always tell when Emory is experiencing an allergic reaction to something by her skin. More often than not, eczema is the first symptom of an allergy. Depending on the level of severity, itching around the mouth, coughing, and or vomiting may follow. Eczema or atopic dermatitis is caused by a combination of immune system activation, genetics, environmental triggers, and stress. Eczema causes your immune system to overreact to small irritants or allergens. Often causing dry, itchy skin and rashes on the face, inside the elbows and behind the knees, and on the hands and feet. Allergens and eczema go hand in hand. therefore, identifying the allergen is the only way to properly treat eczema.
Identifying Eczema
While there are many forms of eczema, the types that most commonly affect children are Seborrheic, Dyshidrotic, Contact, and Atopic. I am very familiar with the latter two types and have personal experiences with them. In addition to the Top 8 allergens, we have to be careful about how we care for Emory's clothing. Dreft Stage 1: Newborn Hypoallergenic Baby Laundry Detergent Liquid Soap is one of the most popular detergents recommended for young children. It was a huge NO for us. The ingredients list is a mile long and it caused head-to-toe contact dermatitis! If you're looking for a safer detergent option we've had no issues with  Arm & Hammer Sensitive Skin.
Treating Eczema
Eczema must be treated from the root. Meaning you must find the cause or the allergen. For us, we started with the elimination diet. For two weeks I eliminated the top 8 allergens from my diet while breastfeeding. We saw a HUGE change. Emory was a totally different baby. We knew we were doing something right. From that moment on, I didn't consume any allergens while breastfeeding. Did I mention I breastfed Emory for 34 months? Yes, I went almost 3 years without gluten, eggs, dairy, nuts, soy, and fish! Two months before her 3rd birthday my milk stopped coming in and we were done! Now I have to ensure that Emory doesn't consume allergens while at school. That's a whole nother' challenge!
Now that Emory is older, we've noticed that there are other allergens outside of the Top 8 that she has an aversion to. Those being sesame, sunflower, and seeded fruits. There is no cure for food allergies. Understanding food allergies is the one true path toward keeping the painful symptoms at bay. If your child suffers from seasonal, outdoor allergies (pollen, ragweed, etc) I encourage you to learn more about Oral Allergy Syndrome (OAS). It's the cousin of food allergies.
Elimination Diet recipes and other related content
Top 10 Allergy-Friendly Breakfast Recipes
6 allergy-friendly weeknight meal ideas for the new year
Fudgy Vegan Carob Zucchini Brownies | Gluten-Free
Easy Sautéed Spinach with Roasted Butternut Squash and Broccoli
Babies with food allergies | Easy DIY Organic Baby Food Recipes | Motherhood
Top Allergy-Friendly Products | Gluten-Free, Vegan and Plant-Based
LIKE THIS? PIN THIS POST!