This vegan carob chip ice cream is creamy, delicious, and dairy-free. Sunflower butter adds creaminess, while the carob powder and carob chips add texture and richness to this no-churn ice cream recipe. Your friends and family will never guess that this dairy-free ice cream is also soy and chocolate free.
[ctct form="13826″ show_title="false"]
PIN THIS RECIPE!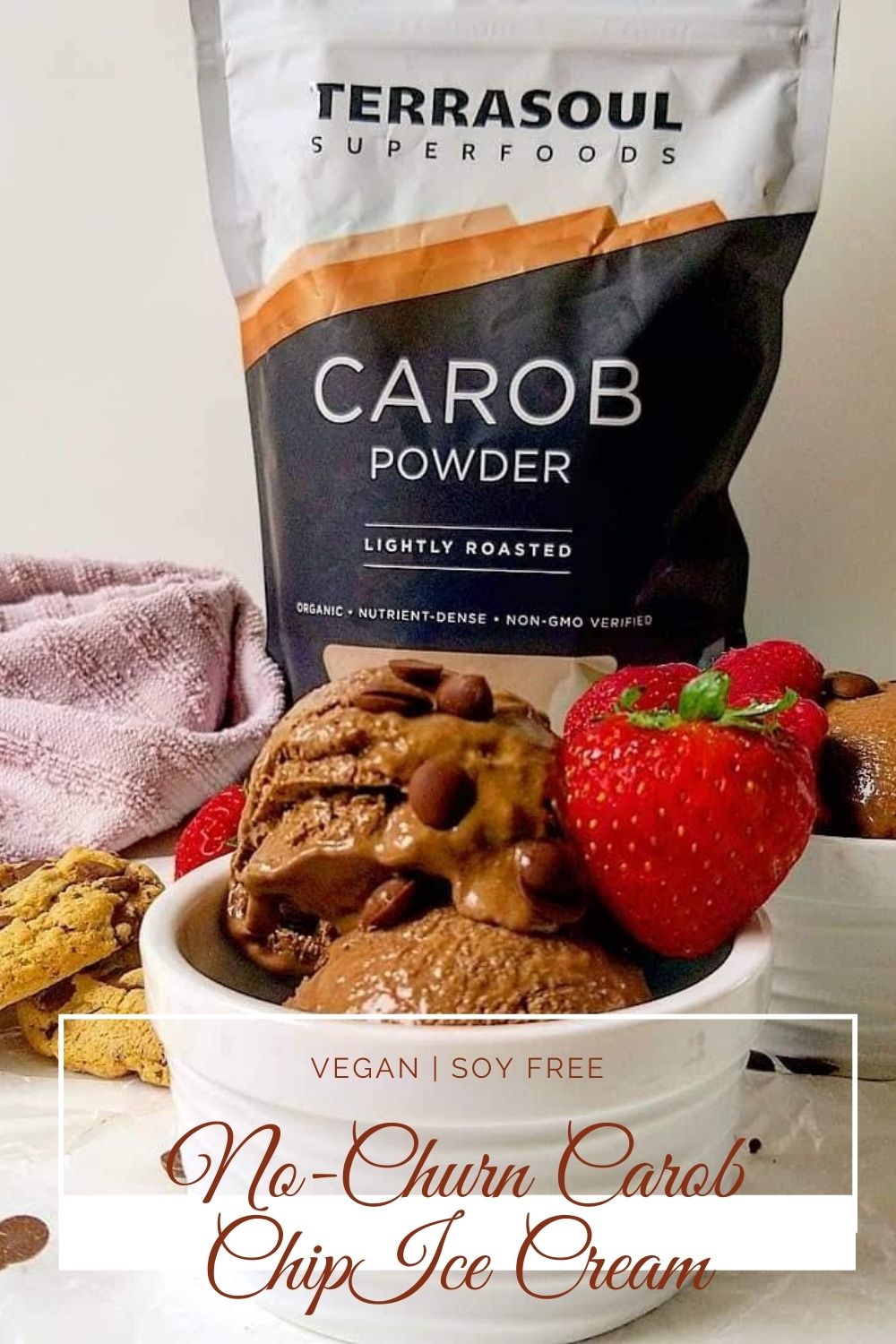 VEGAN CAROB CHIP ICE CREAM
How do you and your family beat the summer heat? At my house, we over-indulge in cold treats and frozen desserts, like ice cream and fresh fruit popsicles. No-churn vegan ice cream is one of my favorite things to make for my friends and family. It's super simple and usually consists of ingredients I already have in my pantry.
My no-churn, vegan carob chip ice cream is a new recipe I've added to my arsenal. Its main ingredients are carob powder, coconut milk, sun butter, maple syrup, and vanilla extract. Unlike my other no-churn, dairy-free favorites like Strawberry Banana and toasted coconut caramel ice cream, this one contains carob chips. The combined flavors of carob powder and carob chips add richness and depth to the ice cream making it reminiscent of chocolate without the added caffeine and sugars.
Vegan Carob Chip Ice Cream
INGREDIENTS NEEDED FOR NO-CHURN ICE CREAM
The steps to making this no-churn, dairy-free ice cream are quite simple. My 2-year-old and I made this 8-ingredient recipe together. I've highlighted some of my favorite ingredients below to guarantee your frozen dessert is just as delicious as ours!
Coconut Milk – There are tons of organic coconut milk (and cream) options available at the grocery store. I prefer the Thai Kitchen brand because it's preservative and additive-free. It's my favorite dairy substitute in recipes.
Carob Powder & Carob Chips – I swear by Terrasoul Superfoods' carob powder and only purchase carob chips from Australian Carob Co. I used an entire bag of chips in my carob chip cookie recipe. I purchase them in bulk to ensure I always have them on hand.
Sunflower Butter – I lovingly referenced this ingredient as "sun butter" in my recipe. Sunflower butter is the perfect substitute for those who can't have nut butter. It's rich and creamy and adds excellent flavor to any recipe.
Pure Maple Syrup – One of the main ways to safely sweeten any recipe is maple syrup. Don't be fooled; some brands are better than others. I prefer 100% maple syrup from Vermont.

HOW TO MAKE CAROB CHIP VEGAN ICE CREAM
Quickly whip up a batch of no-churn, vegan carob chip ice cream by whisking together coconut milk, carob powder, tapioca flour, and maple syrup in a small bowl over medium heat for about 5 minutes until it begins to bubble.
Remove from heat and whisk in sun butter, vanilla, and sea salt until smooth. Allow mixture to cool for about 20 minutes.
Two key steps will ensure your no-churn ice cream is creamy and smooth after pouring your carob ice cream mixture into your loaf pan or freezer-friendly bowl top with saran wrap. Be sure to press the saran wrap into the pan (or bowl) so it comes in contact with the ice cream. Additionally, stir your mixture about 3-4 hours into the freezing process. These steps will remove all air bubbles and smoothen the texture, ensuring a delicious frozen dessert that everyone will enjoy.
FAQ SECTION | COMMONLY ASKED QUESTIONS
Can I use an Ice cream maker? Absolutely! Add the mixture to your ice cream maker (following manufacturer's instructions) once cooled, and voila. Use this article from Kitchn as a guide.
Is Carob good or bad for you? I think it's safe to say it's better for you than chocolate. Carob is naturally high in fiber and has no caffeine; it's ideal for people with high blood pressure and/or diabetes. The low sugar and fat content also make it an excellent dietary addition or chocolate substitution for people looking to lose weight.
Does carob taste like chocolate? Carob does not taste like chocolate. It's a bit more herbal and less sweet. It reminds me of chocolate when paired with espresso powder.
What is carob made of? Carob is made from dried, roasted carob tree pods. It looks a lot like cocoa powder. Carob powder is also a great substitute for cocoa powder.
Does carob contain dairy? If you're lactose-intolerant or choose to be vegan, carob is also a great dairy-free alternative.
I genuinely thank you for visiting my blog. If you enjoyed this no-churn, vegan carob chip ice cream recipe, please share it with your friends and family and on social media. If you happen to try out this recipe, please tag me on Facebook, Instagram, or your stories at @blackallergymama. I'd love to share your creations in my stories with credits to you!
Vegan Carob Chip Ice Cream
This no-churn carob chip ice cream is creamy, delicious, and dairy-free. Sunflower butter adds creaminess, while the carob powder and carob chips add texture and richness. Dairy-free, soy-free, caffeine-free, and chocolate-free.
Ingredients
2

14 oz

Coconut Milk

1/2

Cup

Carob Powder

1/8

tsp

Sea Salt

1/2

tsp

Vanilla Extract

1/4

Cup

Carob Chips

3/4

Cup

Pure Maple Syrup

6

Tbsp

Sunflower Butter

1

Tbsp

Tapioca Starch
Instructions
In a medium saucepan, whisk together the coconut milk with the cacao powder, tapioca*, and maple syrup. Heat the mixture over medium heat and cook while stirring with the whisk for about 5-10 minutes until the mixture just begins to bubble.

Remove from heat, then whisk in the sunbutter, vanilla, and sea salt until fully combined and smooth. Allow the mixture to cool at room temperature for about 20 minutes, stirring. A film might begin to form on top - this is normal, simply whisk to blend it away.

Transfer the mixture to a medium loaf pan (I used an 8.5 x 4.5} and cover the top with plastic wrap so the plastic is in full contact with the mixture. wrap again tightly with aluminum foil and place in the freezer, freeze 6 hours or overnight.

**As with most homemade no-churn ice creams, once fully frozen, you will need to allow it to thaw on the countertop for 15-30 minutes prior to scooping. Enjoy!
Notes
I've learned that there are two additional steps that will ensure your no-churn ice cream is creamy and not icy: covering with saran wrap and stirring during the freezing process. 
THE USE OF SARAN WRAP
After you have poured your mixture into your pan top with saran wrap pressing it down onto the top of the ice cream. This ensures that no excess moisture enters the ice cream. Cover that with foil or the lid of the container. 
STIRRING DURING THE FREEZING PROCESS
I like to stir my ice cream mixture 3-4 hours into the freezing process. This helps remove any access air, leaving your ice cream smooth and creamy. Once finished top with saran wrap and foil (or lid).