Lost & Found is the newest eatery and drinking destination to open in Houston's Fourth Ward (a.k.a "Midtown"). The owners of Prospect Park have created a spot with Instagram-able aesthetics, delicious food and drinks, and spacious patios. Almost guaranteeing it to be the next hot spot in Houston. The restaurant officially opened this past Saturday and invited some members of Houston's media to a private, mid-day tasting. I am excited to share my full review with you guys!
THE SPACE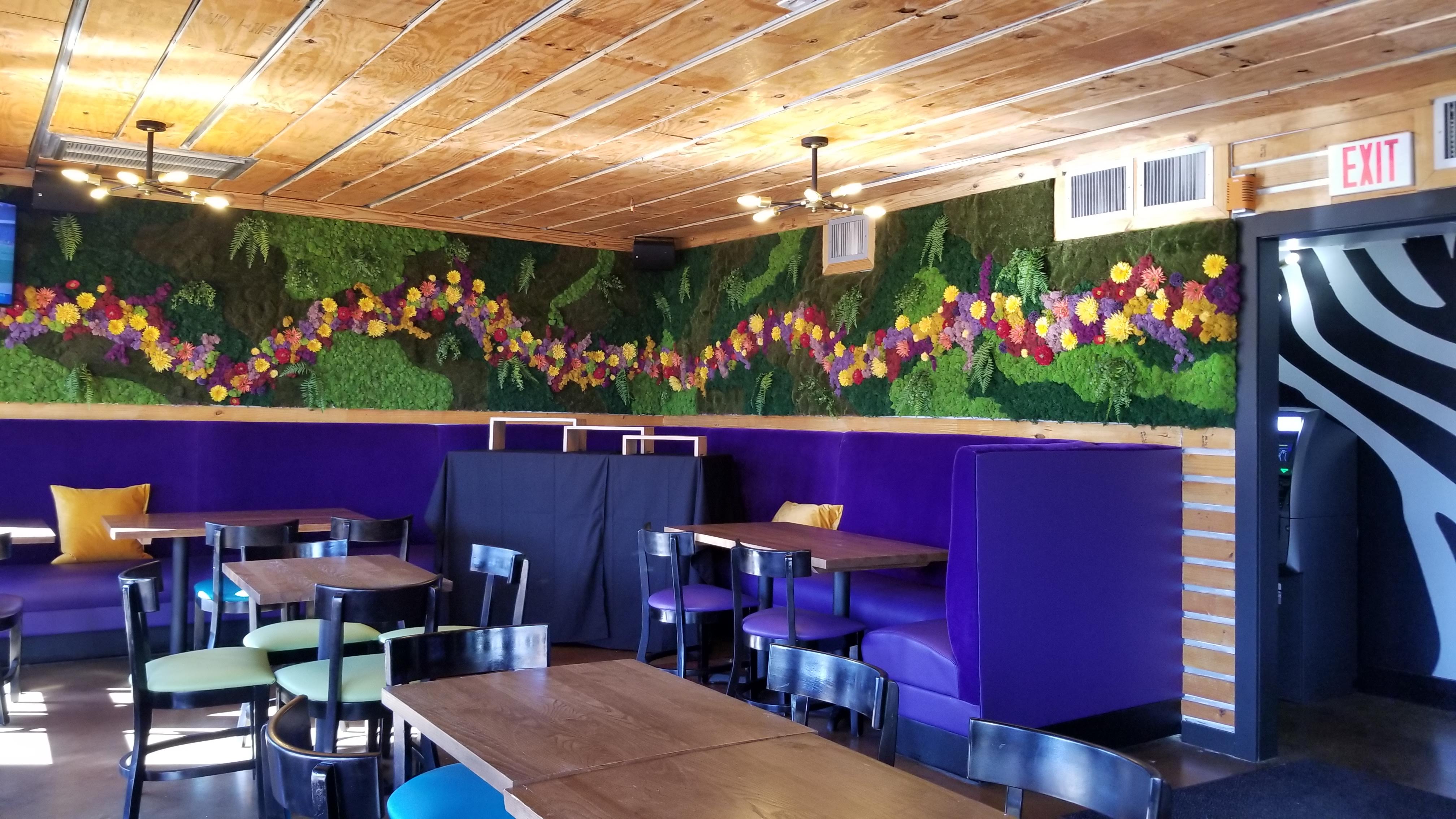 There seems to be a renaissance of cute and quirky hangout spots popping up in Houston, and I am here for it.
Conceptually, I believe Lost & Found was built for Instagram. If you've ever visited Present Company, then you know exactly what I am talking about. From the electric wall signs to the massive zebra behind the bar, everything here was made for the gram.
The space offers guests patio life for days, with four outdoor seating areas to choose from. Houston restaurants that have patios are quickly bumped to the top of my "let's go here" list, especially when the weather is nice. Lost & Found offers two larger patios each flanking opposite sides of the main dining room. One even has its own bar. The second level patio space is a bit smaller, but is the perfect place to watch the sunset behind the Downtown Houston Skyline. The fourth semi-patio is at the main entrance of the restaurant. If you're a people watcher like me, I highly suggest you camp out at one of these umbrella tables.
The private media tasting I was attending happened to occur on the same night as a major Texan's football game. You couldn't help but to get wrapped up in the excitement thanks to the massive flat-screen TV's hanging from every wall. Lost & Found is not only a great place to eat and drink, but a perfect location to catch your favorite sporting event.
THE DRINKS
After swooning over how cute the restaurant was I quickly turned my focus to the menu. Let's be honest, who gives a damn what the space looks like if the food sucks!
During the tasting we tried five of the restaurants signature cocktails (all of which are $13). Now, I am not sure if there will be more cocktails available, but these are the ones they want you to know about. After tasting them, I totally understand why. Their cocktails are creative, unique and versatile enough to cater to any audience.
These cocktails were clearly made to be photographed! I really enjoyed the thought that went into each cocktails ingredients and added accouterments. There were drinks rimmed in sugar and topped with sour patch kids candies, while another came with its own little personal bottle of Grand Marnier. Lost & Found's signature cocktail "The Zebra" is made with pineapple, chocolate and absinthe. It's a true show stopper. Their Champagne Showers cocktail was my favorite of them all. The soft, subtle and sweet mix of Hennessy VS + banana Rum + lime and champagne foam was made to be sipped in the sun.
THE FOOD
Listen, when I tell you Chef T is doing her thing in the kitchen I mean it! Lost & Found's menu is jam packed with all of my favorites. As a new mom, my time out is very limited. I need to be able to trust that my evenings away from home include good food and drinks! I also appreciated the fact that the menu includes a solid variety of items to choose from.
Every crumb that graced my lips at Lost & Found was delicious. The toasted crawfish bread, fried cauliflower, char-grilled chicken wings, fried ribs with Hennessy BBQ sauce, and shrimp & crawfish dip literally made my heart skip a beat. Full transparency – due to the fact that I don't eat pork I didn't eat the fried pork ribs. Heard they were great though. At my next visit I plan to try the collard greens and grilled corn.
If I had to make one suggestion, it would be to add french fries to the menu. I know, super random request, but I love fries.
In addition to the savory menu items, Chef T also brought out her famous chocolate bread pudding topped with white chocolate, and her traditional s'mores cookies. On the menu these sweet treats are accompanied by a scoop of Ice Cream, but they were so good we didn't even care it was missing!
THE GIST
Let me close out the post with possibly what I should have started with. Lost & Found is Black-owned, the chef is Black and a majority of the staff and clientele are Black! LOL.
Before the end of the night we were able to chat a bit with Lost & Found's GM, Timothy. We wanted to pick his brain to get a true understanding of the vision for A Life Hospitality group's newest baby. Given all the current drama that recently occurred at Seaside Lounge it's important for me to get an understanding of the restaurant's current (and future) visions. "Lost & Found hopes to foster an environment where urban professionals of all ages can relax while enjoying quality food and drinks," Timothy stated.
During my visit the crowd appeared to be a mix of folks in their late 20's – early to mid 30's. Grown folks basically. Oh, and for those of you that like to stunt (for no reason), bottle service will be available in the coming months. Lastly, be on the lookout for Sunday Brunch starting in early February. Just in time for Black History Month.
— End
PHOTO GALLERY