These Gluten-free cinnamon sugar donuts are not only delicious but also dairy and egg-free! This recipe was my first attempt at successfully making donuts. My previous attempts were total failures. I swapped out some ingredients and used a different style of baking dish, and am much happier with the current outcome. If you're looking for moist, baked, gluten-free donuts, read the full recipe.
[ctct form="13826″ show_title="false"]
I love donuts. They were one of the hardest items for me to give up when switching to a gluten-free diet. I've spent countless hours scouring the internet for gluten-free donuts that were also vegan. I stumbled across a recipe for gluten-free cinnamon sugar donuts from Texanerin. What I liked about her recipe was that it was easy enough to modify to my needs.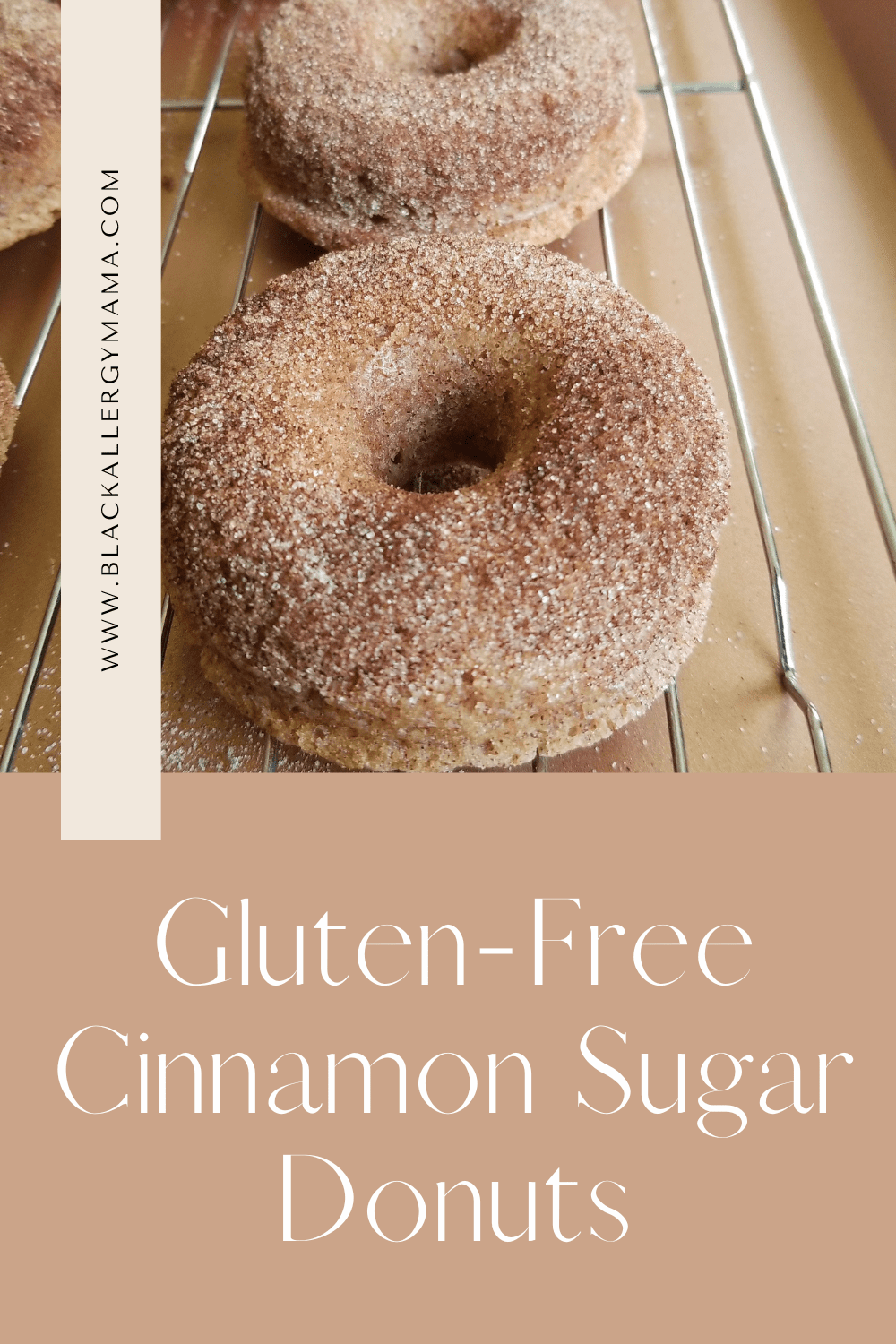 Erin's post offers some great info about this recipe. I have shared a couple of them below. I like how she addressed some concerns that I had before duplicating her recipe.
I don't have a donut pan – what can I use? You can use a regular muffin pan. Just place a ball of foil in the center of the individual muffin pans and fill around them. I believe this recipe would yield eight muffins and you'd need to bake them for 15-20 minutes.
Can I use a different gluten-free flour mix? I used Bob's Red Mill 1 to 1 Gluten-Free baking flour. This recipe was my first time using this flour. It worked well. My usual go-to is Krusteaz Gluten-Free flour. If you have another brand that works as a sub for the all-purpose flour you usually use, then you could probably use it here.
Do they taste gluten-free? Now trust me. I've made some recipes with gluten-free flours that were dense and awful. If you use the flour we did, these gluten-free donuts taste like they were made with all-purpose flour!
You can read Erin's full blog post here.
Thanks for visiting my blog. If you enjoyed this recipe, please share it with your friends and family l, and on social media. If you happen to try out this recipe, please tag me on Instagram or in your stories at @blackallergymama. I'd love to share your creations in my stories with credits to you!
Most recent recipes:
Lemon Poppy Seed Muffins (Gluten-Free, Vegan)
Strawberry Banana No-Churn Ice Cream (Vegan)
Gluten-Free Cinnamon Sugar Donuts
A simple recipe for gluten-free donuts. This recipe is also dairy and egg-free.
Ingredients
1 cup + 2 1/2 tablespoons (161 grams) Gluten-free Baking Flour
1/2 cup (100 grams) granulated sugar
2 teaspoons baking powder
2 teaspoons ground cinnamon
2/3 cup (160 grams) unsweetened applesauce (use less for a drier donut)
1/3 cup (78 milliliters) oat milk
1/3 cup (78 milliliters) canola oil (using a neutral oil is key)
2 tablespoons (28 grams) melted refined coconut oil (or butter for a non-vegan and non-dairy-free)
1/2 (100 grams) granulated sugar
1 teaspoon ground cinnamon
Instructions
Preheat oven to 375°. Grease donut pan with coconut oil or spray and set aside.

In a medium-sized bowl Mix Dry Ingredients: flour, baking powder, sugar, salt, and cinnamon

In a small bowl mix wet ingredients: apple sauce, milk, maple syrup, and oil

slowly whisk wet ingredients with dry ingredients

Pour mixture into the donut pan, filling to the very top. Donuts will rise.

Bake donuts for 15 minutes.

Once donuts are complete turn them out onto a wire rack and allow to cool 2-3 minutes.

Once slightly cooled brush with coconut oil and dip into the coating.
Notes
If you have a piping bag feel free to use it when adding the mixture to the donut pans. I used a bowl with a spout. 
I used a silicone donut pan. They are a bit flimsy so I place the donut pan on a cookie sheet prior to filling it. Then I placed both into the oven for baking. 
To make this recipe non-vegan/gluten-free simply add milk and use all-purpose flour. 
I wrapped leftover donuts in saran wrap and stored them in the freezer. I reheated them for 5-7 minutes in a preheated (350 degrees) oven. They came out even more delicious.