David Allardice, National Brand Ambassador for Glenfiddich Scotch Whisky hosted a private tasting at Hearsay Gastro Lounge. David led guests through a tasting of Glenfiddich's core ranges from the 12 to 21 year old. Each paired with delectable dishes carefully created by Executive Chef Kelly Boyd of Hearsay Gastro Lounge.
Hearsay Gastro Lounge is somewhat off the radar. Holding its own on the edge of downtown Houston. Though, I hadn't visited this location in years, I was quite pleased with Executive Chef Kelly Boyd's tasting menu. You may remember Chef Boyd as the Third Place winner of the Lone Star Entrée Award. Where his Southern-fried Texas quail on 5-year-aged sharp cheddar grits took home the prize at the 2017 HLS&R "Best bites" competition.
Both Chef Boyd and Ambassador Allardice should be quite proud of their pairings. Everyone I chatted with following the Glenfiddich Tasting & Dinner were quite pleased with the overall experience.
COURSE ONE
Rows of crystal Glencairn whiskey glass lined the second floor bar of Hearsay. Each filled with golden tasting portions of aged whisky. The tasting started with Glendiffich 12 Year Signature Malt and a delicious first bite of aged balsamic compressed watermelon. The compressed watermelon was topped with basil, prosciutto dust and goat's milk brie. The fresh & fruity flavors of the single malt paired perfectly with the compressed fruit.
COURSE TWO
The mature and bold flavors of Glenfiddich 21 Year Gran Reserva was quite balanced alongside Chef Boyd's Caribbean coconut soy ahi tuna poke. This particular whisky matures in American Oak casks for 21 years. Finished in casks soaked in a custom blend of golden rum. Which happens to be a secret ingredient of the malt master.
COURSE THREE
Glenfiddich 15 Year is crafted using the Solera System. A marrying process between sherry, bourbon, and new oak casks in a handcrafted Oregon Pine Solera vat. This process is completely unique in the whisky world. Due to this method, it's possible that certain elements of the 15 Year Old whiskey are as old as me (circa 1983). Patrons enjoyed this whiskey with the award winning Southern-fried Texas quail on 5-year-aged sharp cheddar grits. This was hands down a 10 star dish. The bacon butter honey glaze was righteous.
COURSE FOUR
Filet Medallions on a bed of truffle foie gras spoonbread paired with Glenfiddich 18 Year Small Batch Reserve made for our final savory course. Not being a fan of beef led me to skip this pairing. Though my neighbor graciously allowed me a bite of his bed of truffle foie gras spoonbread. Now that was damn delicious.
COURSE FIVE
Because of my massive sweet tooth, dessert is always the best course of all! This was unlike any other dessert experience though. Bowls of Glenfiddich 14 Year bourbon spiced peach and pistachio bread pudding, topped with praline ice cream created sparks throughout the dining space. Literally due to the incorporation of sparklers.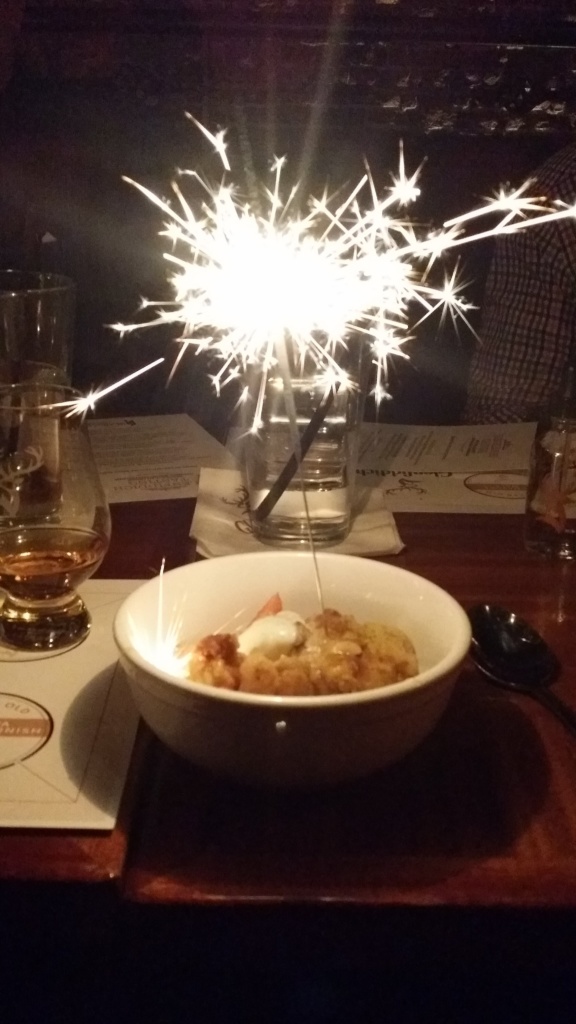 HEARSAY GASTRO LOUNGE
218 Travis Street
Monday-Thursday: 11 a.m.–12 a.m.
Friday-Saturday: 11 a.m.–2 a.m.
Sunday: 10 a.m.–10 p.m.
Brunch
Saturday: 11 a.m.–3 p.m.
Sunday: 10 a.m.–3 p.m.
Small Bites
Friday-Sunday: 3 p.m.–4 p.m.
Happy Hour
Monday-Friday: 3 p.m.–6 p.m.
PHOTO GALLERY