Uchi Houston, sister restaurant to Austin's Uchinko has made its mark in Houston as one of the TOP Japanese farm to table restaurants since moving to the city in 2011. Uchi's philosophy combines local seasonal ingredients with an infinite spectrum of seafood from around the globe.  The food and service were simply impeccable and the decor was modest yet beautiful. This is my go to for sushi when dining in the Montrose Area!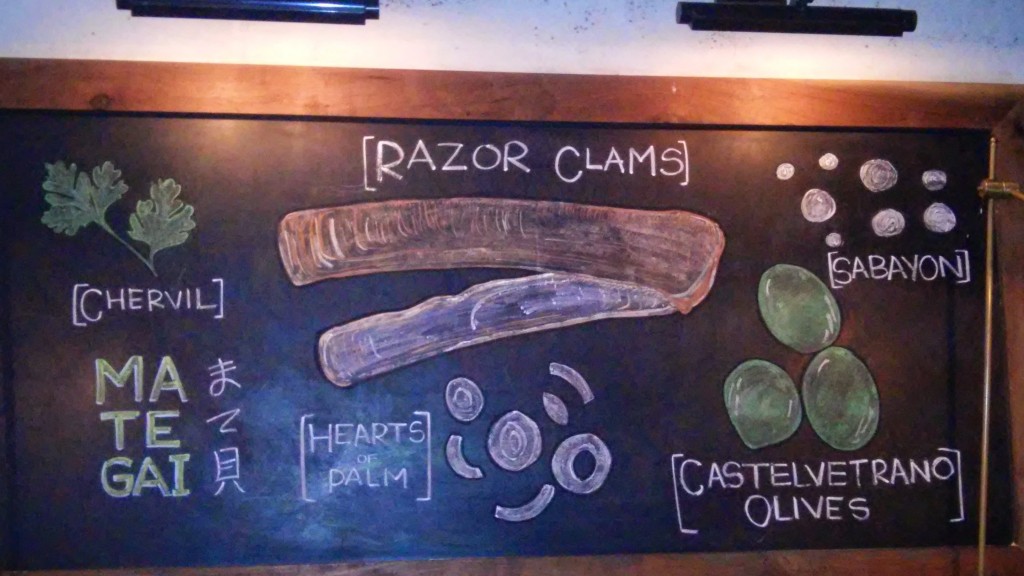 THE LOOK
I am a sucker for light fixtures and chandeliers. I often find myself being mysteriously drawn to them. My eyes immediately find the light and 9 times out of 10 (when dining) the fixtures are quite exquisite. I love when I can tell that someone was actually thinking about that specific design aspect when putting the decor concepts together. It speaks volumes, in my opinion, of what to expect from the dining experience.
SAKE SOCIAL HOUR
If the decor concept is well thought out, to me, that means the menu and food will have that same connection. This is certainly the case at Uchi. The Sake Social Hour — served daily from 5:00 – 6:30p is the place to be if you are looking for the best happy hour experience in town. With all of the great things I had heard about Uchi, Chef Cole and Austin's Uchinko, I bought one of everything on the menu. All I can say is mmmmm mmmmm mmmmm! The happy hour alone is why Uchi tops my list of places for sushi in Montrose.
COCKTAILS
Not only is the food amazing but the drinks are well thought out. The Kara Kyuri was hands down a 10 and has officially become my go to cocktail. The cold sake paired with the freshness of the cucumber and a slight hint of heat from the Thai chili made for a perfectly refreshing sip!
I've never been to a restaurant where the chef makes new things for the guest to sample while they eat. A waitress appeared with a tray of little strawberry/basil mojito shots, apparently to determine if they were menu worthy. They got a big fat YES from me.
To close out the evening, I had to try a "nitro" in a bottle as I thought they were only served from a tap. Left Hand Brewing's — Milk Stout Nitro was the bomb and now I have to go buy them for my fridge. Dustin, our bartender/mixologist (I am certain at Uchi that is NOT what they are called) is a "beer junkie" like me, so we sparked up a great conversation about all things beer, the best place to get some in Houston, and our top brewing companies. I love a good conversation.
SAVORY | Best Sushi In Montrose
All the food at Uchi is presented to you table side and comes with a full explanation of what you are eating. Loved that!
The menu consists of some of Uchi's top rated items and I couldn't wait to try them. I was surprised at the prices as the name "Uchi" just sounds expensive to me. The Sake Social Hour is very affordable and competitive with other sushi spots, but the food  at Uchi knocks their puny fish out of the water!
THE MEAL
Our first course was the Machi Cure, which was to be eaten in one bite. The goal is to get all the pieces on a crisp so that you can experience the full flavors. I took one bite and for some reason the first thing that came to my mind was Fruity Pebbles cereal. It may have been the sweetness from the yucca crisps paired with the smoked baby yellowtail. Whatever it was, it got me super excited about what else was to come..
My dinner date (who had been to Uchi tons of times) ordered the Nasu Nigri. She loved it. I liked it. I am a texture person so to me the rice and eggplant were to similar in my mouth. Everything turned to mush at the same time. I did like how the eggplant was prepared. The grill gave it great flavor.
The Walu Walu — oak-grilled escolar, left me speechless. The server told us that it was very important that we get the broth at the bottom along with a bite of the fish to savor the full experience. The broth's bright lemony flavor paired with the soft-buttery escolar made my mouth and tongue squeal with joy. It's possible that I squealed out loud.
For grins we ordered the Spicy Crunchy Tuna and the Shag sushi rolls. With all the items on the menu the last thing I thought about was a sushi roll. In my mind that's basic business. These were some of the best sushi rolls I've ever tasted. The fish was fresh, the sauces were amazing, and I DID NOT think about wasabi or soy sauce once.
The following items aren't on the Sake Social Hour menu. I suggest you splurge, and try them anyway!
Often times when I eat out with someone they are hesitant to suggest things to me. I guess they are afraid that I will poo on their suggestions. My foodie friend knew her stuff! The two items she recommended made the end of our meal quite somber as our orgasmic food dream came to an end.
Chicken is always a plus on any menu. Especially crispy fried chicken with a hint of teriyaki drizzle. The Karaage was just what we needed. It was hearty, HOT (temperature not spice) and flavorful. The Hamachi Nabe — which is served table side and finished with a farm egg and a good stir was yum-o. The koshi hikari rice stole the show. It was crispy and flavorful and the broth was so good it could have been served in a glass with a straw.
SWEET
Before we could wipe away our tears of sadness as our meal had officially come to a close, we were treated to a birthday surprise. The strange part was I don't recall telling anyone about my friends birthday. Maybe Dustin (bartender) over heard us chatting and took it upon himself to notify the kitchen that there was a birthday in the house. Very thoughtful. We couldn't have been more excited about having one more delicious item to try!
The house-made Lemon Gelato was great and not over lemony like some I've had. The lemon flavor was subtle and carried soft notes of vanilla. The white balsamic reduction surrounding the bed of crushed pistachios brought an "earthy" flavor when eaten with a bite of the gelato.
OMAKASE
My mouth has never been so happy and my plates so clean. I will CERTAINLY be back to Uchi because there are so many other things I MUST try. Actually I think I will just do one of the Omakase or "chefs tasting." Either the ten-course chef's daily tasting menu or the *signature tasting menu which consists of a six-course tasting menu of Uchi's signature dishes. Add Uchi to your list for the Best Sushi in Montrose!
PHOTO GALLERY